Article: Beauty In the Bag Q&A
Celebrity and editorial makeup artist Dillon Peña had a vision: enhance the landscape of the green beauty industry with clean, natural small-batch beauty products. He created Leland Francis as an ode to his great-grandfather, and set the natural beauty bar high by offering handmade, cruelty-free, vegan formulations crafted in the USA.
Leland Francis celebrates individuality and indulgent self-care for a more youthful you, using the finest ingredients that layer beautifully under makeup and are delicate on skin. The botanically-based brand extends beyond skincare to bodycare and candles.
BITB caught up with Dillon to learn more about his motivation for creating Leland Francis and what's in store for the future of the brand.
What motivated you to create Leland Francis?
It was November 2014 and I had just quit my job as a National Makeup artist at a major brand in NYC to go freelance.
As a makeup artist and lover of face oils, I needed a face oil that I could use on set to help prime and prep the skin. It had to be all-natural, as I noticed the models were looking at ingredients on the skincare packages.  It needed to give hydration without looking oily. The face oil needed to be gender-neutral and suitable for everyone, something that I wouldn't have to hide the label when I applied it to a client's face or body. I wanted something that I could mix with foundation to sheer it out or mix with a touch of shimmer to give the clavicle a nice pop. I wanted something that would look elegant on my makeup station in photo studios and something that would look nice on my vanity at home. I couldn't find what I wanted, so I created it, and my first product – the Luxe Face Oil – was born.
What is your best-seller / personal favorite? Any new products on the horizon?
The top sellers are the Melting Balm and a toss-up between the Twenty-Nine Botanical Serum and the Luxe Face Oil, which I love to layer on top of the Twenty-Nine Botanical Serum. On days when I've had a long night or long flight and need an extra pick me up to dehydrated skin, I will heat a little of the Lip and Eye Balm and press that on top of it all to seal in the moisture.
I have a few new products on the horizon. I just launched a Body Serum that is divine. It feels like silk and smells amazing. I've also recently introduced two new candles that are vegan, made with cotton wicks and the fragrance is made with 100% natural oils. I was told it was going to be way too expensive to do, but it was important these were done without synthetic fragrance and were vegan, or I wouldn't have done it. Most candles on the market have synthetic fragrance and I think we should be more concerned with what we breathe in and what we put in our homes – even down to what we use to clean. I have a few more candles developed. One will launch around holidays and the other in Spring 2020. 
What I'm most excited about, and plan on introducing in January 2020, is a face cream and its lighter weight sister a face milk/lotion. I've been working on these formulas over a year and my skin texture and glow has changed drastically by using these products the last few months. 
What do you foresee for the future of Leland Francis? 
The brand came about as the result of a real need for a natura, clean, hydrating solution on set, and so, as we've expanded into more products, I've continued to work to develop products that fill a void in the clean, natural beauty space. For example, our candle collection was a real labor of love. I was told time and time again, vegan, all-natural fragrance wasn't possible and when it was possible, the prices would be extremely high. Fundamentally, I hadn't seen a brand be successful at making a scent that held up to the principals celebrated by the clean beauty movement. And so I created four different candles – – just because I was told it wasn't possible.  

The brand is about solutions, it's a labor of love for me, and as long as my clients are loving the results, Leland Francis will continue to thrive as a small batch, vegan, cruelty free, clean beauty solution for those who desire the same.
This article originally appeared on Beauty in the bag.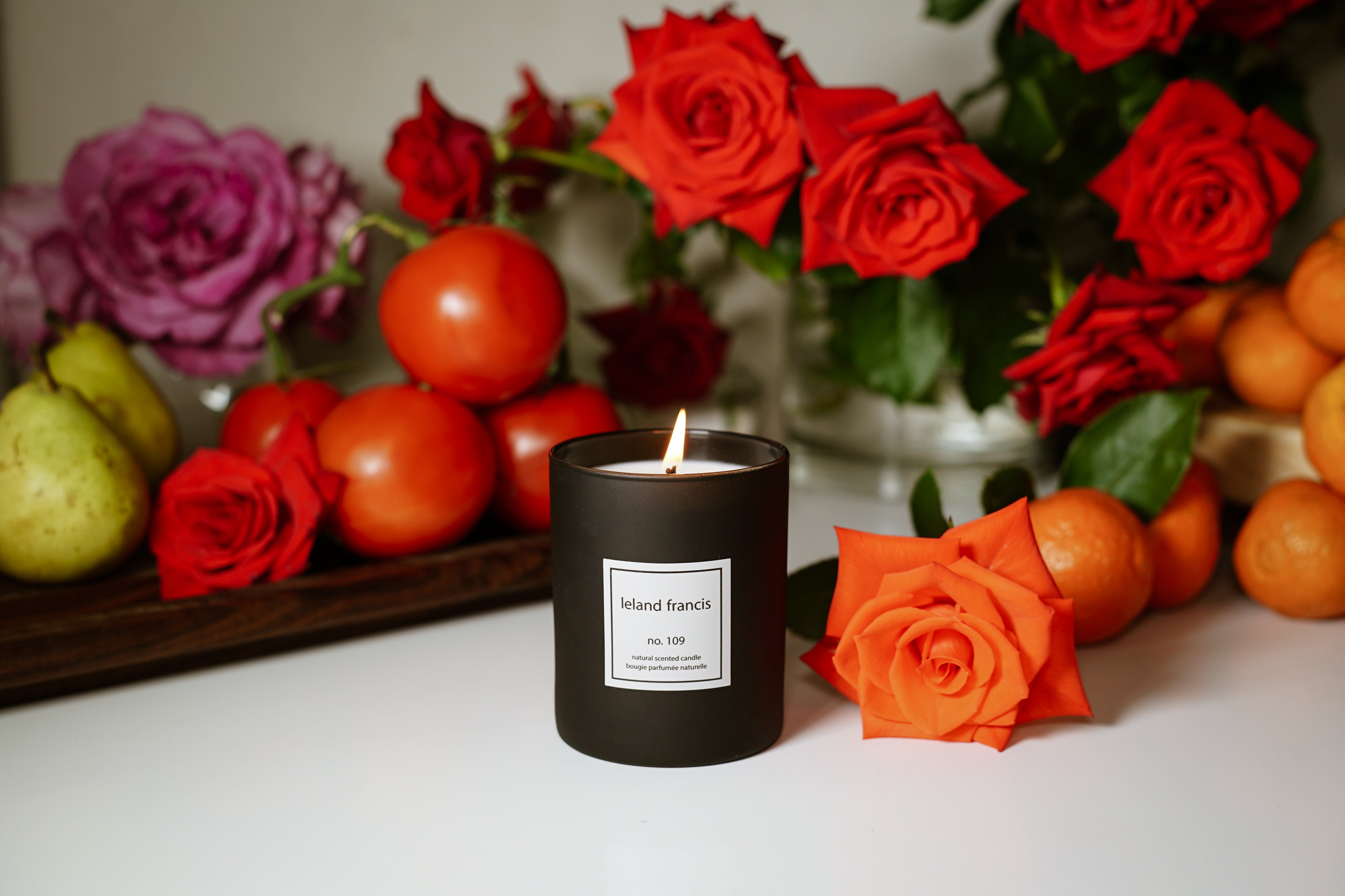 Candle
At Leland Francis we believe skincare isn't the only thing that should be clean. We believe our home scents should be clean too.  We believe what we put on our skin should be clean and non-toxic an...
Read more