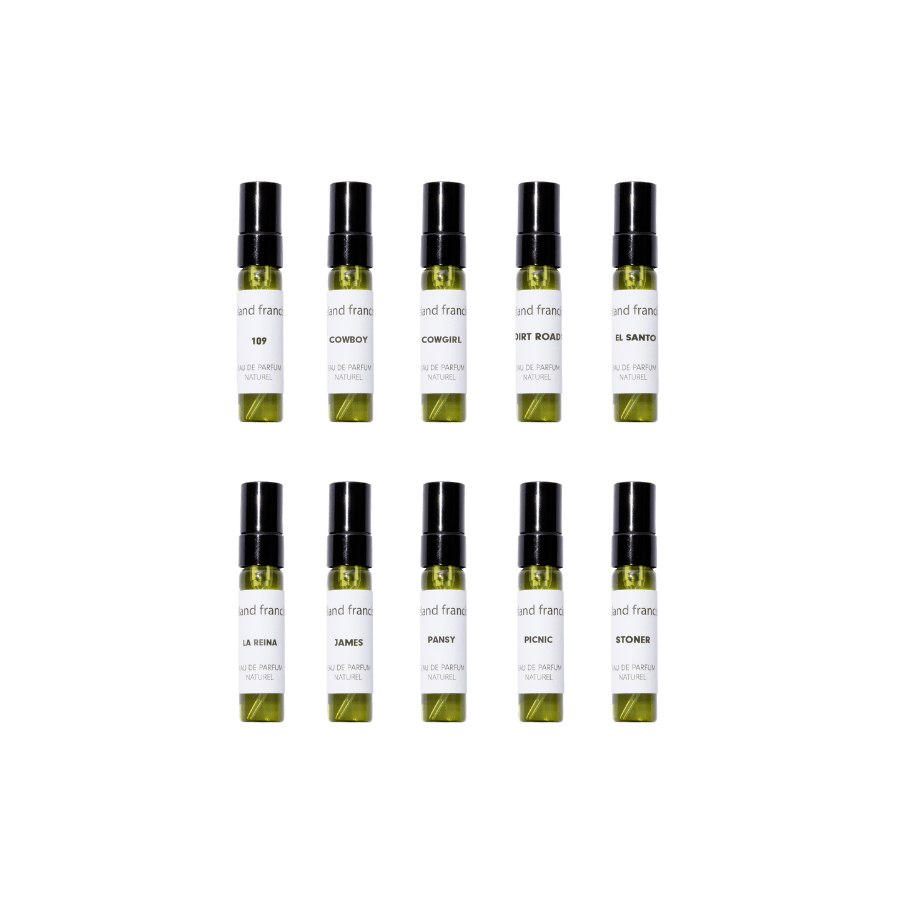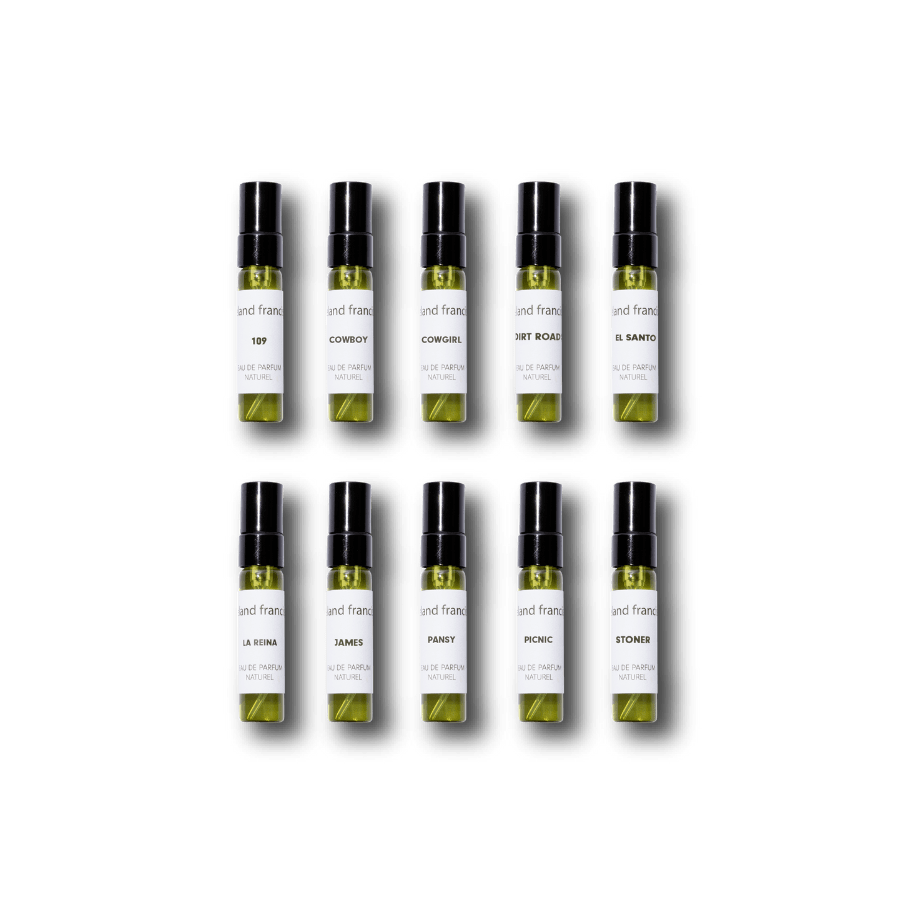 Discover an exquisite world of fragrances with our curated collection of eau de parfums and exclusive sneak peeks of upcoming scents. Delight in 10 luxurious 5mL deluxe vials, designed to captivate your senses and transport you to new realms of olfactory pleasure.
Indulge in:
109: A harmonious blend of Petitgrain, Cypress, Palmarosa, Rose, Vanilla, and Cedarwood, reminiscent of a serene escape.


Cowboy: A spirited fusion of Lemon Zest, Galbanum, Hemp, Violet Leaf, Black Pepper, and Haitian Vetiver, embodying the fearless spirit of the Wild West.


Cowgirl: An enchanting medley of Bergamot, Tuberose, Orange Blossom, Garden Geranium, Jasmine, Patchouli, Sandalwood, and Peru Balsam, capturing the essence of feminine allure.


Dirt Roads: A nostalgic journey through Orange, Patchouli, and Cedarwood, evoking memories of long drives on rural paths.


El Santo: A mystical concoction of Orange, Petitgrain, Palo Santo, Vetiver, Cedarwood, and Amyris, awakening the divine within.


James: A captivating symphony of Melon, Rose, Peach, Heliotrope, and Violet, creating an irresistible aura of charm.


La Reina: A regal fusion of Bergamot, Sage, Rose, Geranium, Labdanum, and Patchouli, fit for a queen.


Pansy: A blend of lemon, orange, black cherry, and raspberry top notes with a herbal heart of rosemary and clary sage, layered over patchouli and vetiver for a warm undertone.


Picnic: A refreshing blend of Grapefruit, Bergamot, Geranium Bourbon, Clary Sage, Labdanum, Vetiver, and Styrax, perfect for a leisurely day outdoors.


Stoner: A seductive blend of Neroli, Palo Santo, Herbs, Leather, and Woodsmoke, designed to ignite your inner rebel.
Experience the finest in perfumery with this exclusive selection, guaranteed to leave a lasting impression.

10 X ℮ 5 mL / .17 fl. oz. 

ABOUT OUR FRAGRANCES

Safe, Clean, and Trustworthy
At Leland Francis, we prioritize your well-being and the well-being of the environment. Our fragrance oils are skillfully crafted using safe, clean, plant-based ingredients. We are proud to be vegan and cruelty-free, embodying ethical consciousness in every spray, ensuring that your room is filled with pure, wholesome scents.
Commitment to Purity and Sustainability
Each small-batch fragrance and candle demonstrates our dedication to purity and sustainability. We source our captivating scents from natural oils and raw materials, ensuring an authentic and eco-friendly experience. Our Eau de Parfum is masterfully blended with organic sugar cane alcohol, and our candles are made with 100% soy wax for a cleaner, longer-lasting burn.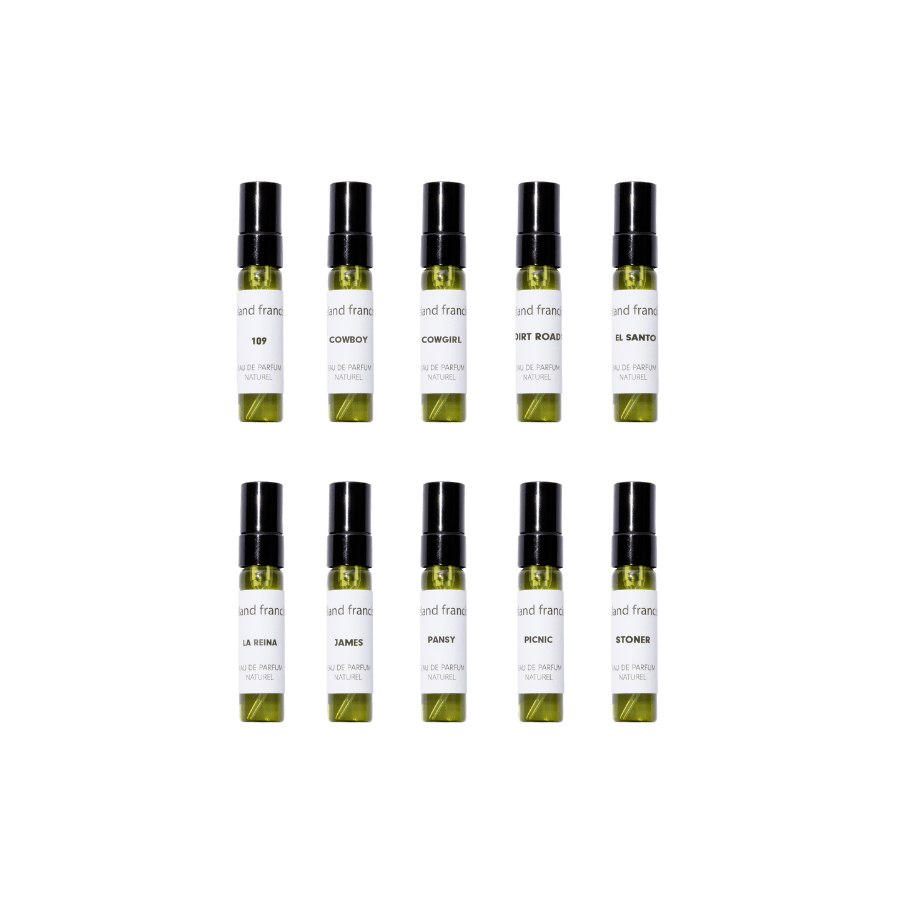 Discovery Set - Eau De Parfum
Sale price

$ 70.00
Regular price
Choose options